Khiladi 786 has turned out to
be a most commercial success.
2011 & 2012 has turned out to be great years for Himesh Reshammiya as a Music director and crossing the 1
00 crore mark with movies like:-
Bodyguard
Bol bachchan
Oh My God
Son of Sardar
Khiladi 786
Currently working on international albu
m @ da edge with International Artists.
Himesh Reshammiya has acquired the rights of
Punjabi block buster remake Jatt and Juliet.
Himesh Reshammiya to feature in film on MJ's mysterious death
Priyanka Srivastava, Sonali Joshi and Shivani Joshi | Mail Today  November 14, 2011 | UPDATED 12:02
From Ranbir, Ileana goes to Akshay Kumar
The south Indian actress who makes her Bollywood debut with Anurag Basu'sBarfee has already bagged a second project opposite Khiladi Kumar

Her maiden Bollywood venture is still under production, and south Indian actress Ileana D'cruz has already moved on to her next. The actress, after working opposite Ranbir Kapoor in Anurag Basu's Barfee, will be seen romancing Akshay Kumar in the actor's next home production Khiladi 786. The film that will star Akshay and Himesh Reshammiya in the main roles will hit the theatres in Diwali 2012.
A source informed Mumbai Mirror, "Ileana is very excited to work with Akshay in Khiladi 786. She has already given her nod of approval. The modalities are being worked out now."
According to the source, the decision to cast Ileana in the female lead for the film was taken jointly by Akshay and Himesh, the co-producers. 
"Akshay Kumar is very fond of Ileana. He is considering her for two films that will be made under Hari Om Productions, his home banner. Needless to say, Ileana is extremely kicked about the same," added the source.
Ileana remained unavailable for comment.
YouTube sensation Alexa Goddard pairs up with Himesh Reshammiya 

By Joginder Tuteja, November 9, 2011 – 12:24 IST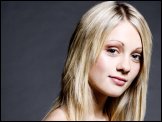 There is a sudden vigour in the manner in which announcements are arriving from Himesh Reshammiya's stable. Just when one thought that between Damadamm and his next film as an actor, Khiladi 786 – Made In Punjab, there may just be a success party with Salman Khan and Rekha that would fill the year long void, there is a lot happening for the composer/singer in the world the music. The latest being that for his international album '@ Da Edge', he has roped in none less than YouTube sensation Alexa Goddard.
"22 year old Alexa is a rage on YouTube and is currently the hottest young celebrity in the UK. Her songs, many of them being cover versions of other famous artists, have become mighty popular and have attracted millions of hits on YouTube", informs a source, "Now with Himesh and her collaborating on a song, she can well expect to reach out to a far wider audience, what with India being a home to 120 crore strong population. The popularity that she can expect from this point on is monumental to say the least because the album would be released in 122 countries."
While the buzz has already caught on, the formal announcement would be made by Himesh at the party.
"Yes, the album is turning out to be bigger with every passing day", says a close associate of Himesh, "Each of the 15 songs that have been composed, written and sung by him would feature one international collaboration along with a music video apiece that would be directed by Roman White. Other notable international artists like Edward Maya and Lil Wayne would be heard singing 'I Have Been Waiting For You So Long' and 'Come To Me Now' respectively. On the other hand, announcement around the song in question with Alexa would be made soon as well."
This isn't all as Alexa would also be featuring in the music video along with Himesh. Boasting of a pretty face which is also one of the most downloaded images on Google, Alexa Goddard has made her name as a popular English pop and R&B singer.
About Alexa: As per Wikipedia, Goddard created a YouTube channel with the username "AlexaMusicTV" in In March 2010. She uploaded to this channel various videos of her own covers of R&B hits. She released four cover versions as singles, using social media such as Twitter to promote them. The biggest-selling of these was her version of "Turn My Swag On", which charted at Number 20 on the UK Singles Chart and Number One on the UK Indie Chart. Within a month, Goddard's videos had received over 1.5 million views and "AlexaMusicTV" had garnered over 7,000 subscribers. By April 2011, the channel had over 11 million views and 56,000 subscribers, being one of the most subscribed music channels in British Y
Himesh's tribute to MJ

Reshammiya's next film will release on Jackson's death anniversary next year

Tushar Joshi
– Bombay Times – 9th Nov ' 2011

Himesh Reshammiya's next film, A * Is Killed, is supposedly based on the murder of the King of Pop — Michael Jackson. Directed by Christophe Lenoir and produced by Arifilms, the story revolves around an Indian musician (played by Himesh)
who is mesmerised by a super star who dies under mysterious circumstances. It's more than a mere coincidence that the film will release on June 25, the same day that MJ died. A source reveals, "A * Is Killed will have Himesh in a totally different look. There are many parallels between Jackson's death and Himesh's film." 
Also, Himesh is the only Indian actor in the cast, which also includes famous Hollywood blogger Perez Hilton who makes a special appearance in the film.
Himesh is now looking forward to the international release of his film. When asked, he says, "I'm really looking forward to A * Is Killed as it is my first international film as an actor-composer. Beyond that, I'm officially under contract with the producer and cannot reveal anything more."
INTERNATIONAL FORAY: Himesh Reshammiya and (inset) Michael Jackson
Himesh plans Ajmer Sharif visit as Damdamm nets Rs.3.7 crore in one week 

By Bollywood Hungama News Network, November 3, 2011 – 14:57 IST
Himesh Reshammiya's gamble of releasing Damadamm on Diwali weekend alongside Ra.One has paid off. With consistent collections right through it's first seven days (Damadamm had released last Thursday), the film has now netted Rs. 3.7 crores at the box office. While the film is already in profits courtesy low cost of making and a celebration party has been planned with Salman Khan, Himesh hasn't forgotten to pay a visit to Ajmer Sharif, something that he had promised himself well before the release of Damadamm.
"Yes, Himesh is ecstatic", says a close associate, "It is four years after Aap Kaa Surroor – The Moviee that he has seen good success as a leading man in a film. He is now getting further aggressive about his acting plans ahead and Khiladi 786 – Made In Punjab with Akshay Kumar is the next step in this direction. However, before that he is scheduling a visit to Ajmer Sharif."
There are preparations that are required to be made beforehand though since in his earlier visit to Ajmer Sharif, he had to wear a 'burqa' to safeguard himself from overzealous fans.
"Situation tends to get a little out of hand when a celebrity arrives in a crowded religious place like Ajmer Sharif", says a close associate of the actor, "However, wearing a 'burqa' has it's own implications, something that Himesh hasn't forgotten after it led to controversies in the past. Let's see what's the strategy that he adopts this time around. Since 'burqa' seems out of question, he would have to do with added security."
Meanwhile coming back to the collections of Damadamm, Rajesh Thadani of Multimedia Combines has confirmed the figure of Rs. 3.7 crores while sharing the break up as follows:
Mumbai: Rs. 1 crore 36 lakh
Delhi: Rs. 77.5 lakhs
Punjab: Rs. 34.5 lakhs
Mysore: Rs. 26.5 lakhs
CP/CI/Rajasthan: Rs. 45 lakhs
Nizam: Rs. 23.5 lakhs
East: Rs. 24 lakhs
Others: Rs. 5 lakhs
Salman to join Himesh for Damadamm success party 

By Joginder Tuteja, November 2, 2011 – 16:35 IST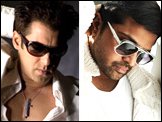 When Salman Khan returns to India after the overseas shoot of Ek Tha Tiger is through, he has a party waiting for him in Mumbai. Himesh Reshammiya, who is on cloud nine with Damadamm recovering its cost and now en route to making profits, has planned a success party for the film. Though it may just be apt for Himesh to schedule the event now, he is waiting for Salman to be back as he doesn't wish to celebrate without him.
Says a source close to Himesh, "Yes, Himesh is indeed ecstatic with response to Damadamm and is now throwing a party. He has sounded his team that they would have to wait for a while though before the party takes place since Salman is currently out and his presence is a must. He feels that 'bhai' is not only his mentor and brother but also his lucky charm. Even earlier he had given as many as 12 chartbuster albums with Salman and when he decided to return to composing, he chose Bodyguard. That album turned out to be a good success as well, hence initiating yet another winning run with Damadamm fetching him good appreciation."
One can well see Himesh continuing his personal relationship with Salman's family as well, what with a special trial show being hosted for Atul Agnihotri, Alvira Agnihotri and Sangeeta Bijlani who apparently loved the way.
"Now it's going to be party time", the source continues, "Along with Salman, the entire Khan family including Salim uncle are also being sent invitations. It is going to be one of the most talked about success parties ever."